Written By: Emma Websdale
Potential application for Ocean Thermal Energy Conversion (OTEC) plants is truly global. Producing clean, renewable baseload (24/7) energy and fresh drinking water, the technology can help alleviate water shortages, reduce resource conflict and tackle climate change.
OTEC's global capacity is reflected by data from the National Renewable Energy Laboratory (NREL) of the United States Department of Energy (DOE), which listed at least 68 countries and 29 territories as prospective candidates for OTEC plants. Furthermore, a study performed by Dunbar identified 98 territories with access to the OTEC thermal resource (temperature differential between warm surface water and deep cold ocean water of at least 20°C), making both floating and land-based plants applicable to vast areas.
With OTEC plants offering optimal ability to reduce greenhouse gas emissions and the risk of conflict over water resources on a global scale, we here at Empower the Ocean will examine the technology's emerging worldwide impact by illustrating how OTEC plants can benefit different territories around the globe.
The first country we will explore in this series is the Philippines.
Barely a month ago, the most powerful typhoon ever recorded to hit land swept across parts of the Philippines, destroying homes, hospitals and schools. Thousands either became homeless and displaced or have died. A staggering 11 million people were affected, of which 5.5 million were children.
This calamity is certainly not the first time the Philippines has faced the dire effects of climate change. Last December, Typhoon Bopha ripped across the southern Philippines, causing mass destruction, particularly in Mindanao. This category 5 super-typhoon with winds of 175 mph (280 km/h) resulted in a death toll of more than 1,900 and cost the country over US$1 billion. 
The year before, Typhoon Washi left more than 1,300 people dead when it struck northern Mindanao, causing rivers to burst their banks.
The impact of extreme weather events across the Philippine Islands is becoming an increasing concern. A German government-funded think tank, Germanwatch, documented the Philippines' startling rise up the global risk index in its 2014 Vulnerability Index Report. The 2014 report, distributed during UN Climate talks, announced that the Philippines ranks 7th in the world as the country worst affected by weather-related losses. This was a shift from its rank of 14th for the period between 1992 and 2011. Its jump in the index supports both scientific and governmental claims that the country's typhoons are becoming more severe.
Yeb Saño, the country's Climate Change Commissioner, made an emotional plea for climate action at this November's UN Climate Summit in Warsaw, saying that the country's typhoon should be taken as a warning to humankind regarding the future threats of climate change.
Fortunately, one answer to climate action for the Philippines can be found right within its waters. Due to its deep ocean shelves –the edges of a country's continent that lie under the ocean –most Philippine water contains large temperature differences between its warmer, tropical surface waters and its deeper colder waters. This natural differential provides an ideal environment for running Ocean Thermal Energy Conversion (OTEC) plants.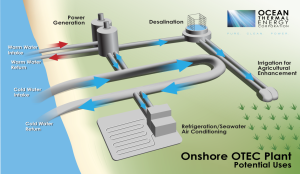 OTEC, an emerging and proven renewable energy technology, harnesses the temperature difference between warm surface waters and deep cold waters to create clean baseload (24/7) energy. With the Philippines now almost entirely dependent upon fossil fuels for its energy supply, OTEC plants can reduce the country's greenhouse gas emissions -the largest human-induced contributor to climate change.
The feasibility of building OTEC plants in the Philippines is supported by research. A study performed at the OTEC Laboratory at the Saga University, Japan, which obtained extensive temperature readings of Philippine water,  determined 14 suitable sites where OTEC plants could be built. Among these locations is Zambales, an area close to the country's urban and industrial areas and existing infrastructure. Zambales is a key location for running an OTEC plant to help strengthen the country's clean energy power generation.
The data analysis of this area of the Philippines revealed a temperature difference between its 25-29oC surface waters and 4-8oC deep-sea waters virtually all year round. Consequently, this site was proposed for two power plant designs: a 5 megawatt (MW) onshore OTEC plant and a 25 MW floating OTEC plant.
With many tropical island countries depending almost entirely on imported fossil fuels, the rise in oil prices have made OTEC electricity pricing increasingly competitive. According to a news post released this December in PhilStar, electricity rates in the Philippines increased by P.124 (Philippine Peso) per kilowatt-hour (kwh) in November. The news post also warns of further price hikes in the cost of electricity, oil and liquefied petroleum gas this December. Rising oil prices, combined with increasingly frequent and severe weather events have combined to heighten the sense of urgency for places like the Philippines to move swiftly toward renewable energy sources.
According to a study by the Niels Bohr Institute, if global warming increases by 2 degrees above current levels, the number of storms similar to the strength of Hurricane Katrina will increase tenfold. With global warming exacerbating the strength and frequency of storms, and with climate change causing an increased rise in sea levels, OTEC has become an even more important tool in helping to withstand climate change.
Essentially replicating natural processes of ocean cooling, OTEC plants use the surface heat from oceans (a source that powers tropical storms) and convert it into mechanical energy, moving the surface heat into colder, deeper water, thus reducing the amount of surface heat available to power up hurricanes.
Furthermore, with twenty years of uninterrupted ocean water flowing through the deep ocean water pipes of an OTEC demonstration plant built in Hawaii in the 1990s, OTEC's reliability against tropical storms and hurricanes proves that climate-driven weather poses minimal threat to OTEC's key components.
80% of the sun's solar energy stored by ocean surface waters, equivalent to 4,000 times the amount of energy the world uses on a daily basis, OTEC has an enormous capacity to cleanly power the Philippines and thereby help fight against climate change. Just one 10 MW OTEC plant has been estimated to provide reliable clean energy for approximately 10,000 people and to replace the burning of 50,000 barrels of oil and release of 80,000 tons of carbon dioxide (CO2) per year into the atmosphere.
Related Posts:
Yeb Saño: "We Cannot Afford to Procrastinate on Climate Action."
Economic Losses from Extreme Weather Are Costing US$200 Billion a Year
Human-induced Climate Change is Causing Storm and Rainfall Changes
Global Warming to Increase US Thunderstorms and Tornadoes, Says Study