Written By: Emma Websdale
The potential application for Ocean Thermal Energy Conversion (OTEC) plants is truly global. Producing clean, renewable baseload energy and fresh drinking water seven days a week, 24 hours a day, the technology can help alleviate water shortages, reduce resource conflict, and tackle climate change.
OTEC's global capacity is reflected in data from the National Renewable Energy Laboratory (NREL) of the United States Department of Energy (DOE), which listed at least 68 countries and 29 territories as prospective candidates for OTEC plants. Furthermore, a study performed by Dunbar identified 98 territories with access to the OTEC thermal resource (a temperature differential of at least 20°C between warm ocean surface water and cold deep ocean water), making both floating and land-based plants possible in numerous areas.
With OTEC plants offering optimal capabilities to reduce greenhouse gas emissions and the risk of conflict over water resources on a global scale, we here at Empower the Ocean will examine the technology's emerging worldwide impact by illustrating how OTEC plants can benefit different areas around the globe.
The third country we explore in this series is Taiwan.
Taiwan, China, is a continental island located along the southeastern edge of the Eurasian plate. Situated on the rim of the Asian continental slope, Taiwan's eastern coastal range abuts some of the deepest depths of the Pacific Ocean, which drops to a depth of 4,000 meters only 50 kilometers off shore. Because of its geography and its proximity to the shore, this deep and rapid drop off from the coast is extremely desirable and favorable for OTEC development.
Oceans cover approximately 70% of the Earth's surface, holding extraordinary energy-storage potential a reservoir that Taiwan is eager to tap. In just one 24-hour period, tropical ocean waters absorb solar radiation equivalent to the amount of energy produced by 250 billion barrels of oil.
In 2010, researchers, from the Department of Ocean and Hydraulic Engineering at the National Cheng-Kung University, investigated six sites that could host DOW technologies (including OTEC plants). A minimum of 18 water samples were taken at each site, from which more than 60 water-quality parameters were analyzed, including levels of heavy metals, herbicides, chlorinated compounds, and dioxins. Results showed that several sites along Taiwan's eastern coast were rich in nutrients, anthropogenic (human-made) chemical-free, and had a temperature difference of 20- 25oC between its surface temperatures (30oC) and deep temperatures (5–10oC).  This temperature difference fuels OTEC systems.
Recent interest in deep ocean water for commercial energy production has also prompted Taiwan's electric power utility, Taipower, to reevaluate OTEC as an energy resource. As part of a joint project with the Ministry of Economic Affair's Water Resource Agency, Taipower is studying the possibility of building a hybrid OTEC system in Taitung County, which is the third-largest county in Taiwan, located along the eastern coast.
Taiwan's Ocean Energy Needs
Currently, Taiwan imports more than 98% of its energy resources from abroad, putting its citizens at the mercy of volatile energy prices. The country's energy consumption is the equivalent of 10.5 million kiloliters of oil (approximately 2.2 million barrels) per day.
According to Taiwan's Bureau of Energy (BOE), only 7.9% of the island's energy capacity is produced by renewable energy sources. Ranking third in Asia and 32nd worldwide in the 2009 Climate Change Performance Index (CCPI) for carbon dioxide emissions, Taiwan's energy bureau is working to meet the country's new renewable energy target of producing 16% of its energy from renewable-energy sources by 2025. In 2009, Taiwan President Ma Ying-Jeou pledged to cut emissions to 2000 levels by 2025. Lawmakers approved his pledge in 2009 and the Renewable Energy Development Act was established in 2010.
The Taiwan government has also been active in promoting energy efficiency, setting an additional target for energy efficiency of 33% by 2025. Furthermore, according to the Taiwan Energy Policy Whitepaper (2006), to achieve sustainable development targets in the future, the facilitation, promotion, and utilization of non-carbon renewable energy has been listed as one of the future development strategies of energy.
Due to the onset of high oil prices, the country is proactively developing clean energy strategies to help reduce its reliance on imported oil. Taiwan's BOE has announced that the island is working to produce more of its energy needs with ocean power. As part of these efforts, in 2008, the BOE, under the Ministry of Economic Affairs, set aside 200 million Taiwanese dollars ($6 million) for a three-year project to study the potentials of ocean thermal energy, ocean wave energy, and ocean current energy in Taiwan. Currently conducting the first phase of this project is the Industrial Technology Research Institute at Hsinchu, south of Taipei.
With Taiwan depending almost entirely on imported oil, the increases in price of fossil fuels have made OTEC electricity increasingly competitive. Ocean surface waters store over 80% of the sun's solar energy, the equivalent of 4,000 times the amount of energy the world uses on a daily basis. With OTEC's ability to tap into this abundant resource, the technology has enormous potential to power Taiwan with clean energy while helping to reduce the country's emissions. Just one 10-MW OTEC plant has been estimated to provide reliable clean energy for approximately 10,000 people, replacing the burning of 50,000 barrels of oil per year and preventing the release of 80,000 tons of carbon dioxide (CO2) into the atmosphere.
Supporting this concept, in 2007, a paper published by two Industrial Technology Research Institute (ITRT) researchers demonstrated that Taiwan's east-coast sea presents optimal conditions for producing ocean thermal power. The researchers estimated that between 600 and 900 megawatts (MW) of clean electricity could be produced there annually using OTEC plants.
Unlike most renewable energy sources, OTEC's thermal resource, the ocean, is available 24 hours a day, seven days a week. Also incorporating secondary applications, including clean-water production for food (aquaculture and agriculture) and potable water and seawater air conditioning (SWAC), OTEC utilizes pathogen-free, nutrient-rich, deep cold water to meet many humanitarian needs sustainably.
Taiwan's Drinking Water Needs
Fresh drinking water production is of particular importance to Taiwan. According to the September 2013 assessment released by the United Nation's Intergovernmental Panel on Climate Change (IPCC), the effects of climate change, including global warming and extreme weather events, will increase water shortages and cause serious droughts.
With parts of Taiwan plagued by long periods of drought, the soil in many areas has become too hard to absorb rainfall. To address this problem, Taiwan's government has restricted water usage for the agricultural sector, a decision that has had financial repercussions, especially for farmers, while worsening the country's food crisis.
Taiwan's agriculture industry uses 70% of the island's water, while generating only 1.6% of its GDP. In an effort to overcome these problems, the government is aiming to boost its national food self-sufficiency rate from 32% to 40%. OTEC's ability to produce fresh water as a by-product of their energy generation could help alleviate the country's strain on its water supply. Due to OTEC's processed ocean water being nutrient-rich and virtually pathogen-free, it provides an optimal environment for various forms of aquaculture, including fish farming, making it attractive to Taiwan's aquaculture industry. In chilled-water agriculture, pipes carrying cold seawater lower the ground temperature, creating an ideal environment for plants restricted to cooler climates. This allows a wider variety of plants to flourish in the tropical climate, reducing the need for imported food and boosting the local economy.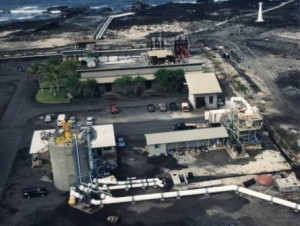 By addressing Taiwan's increasing need for agricultural self-sufficiency and producing fresh drinking water, OTEC can equip Taiwan with the self-empowerment tools needed for a sustainable, conflict-free future. OTEC plants can also help Taiwan reach its renewable-energy and -emission targets, and can reduce the country's high dependence on important fossil fuels, thus offering Taiwan great support in its quest for energy independence.