Written By: Emma Websdale
As a renewable energy producer, Ocean Thermal Energy Corporation (OTE) is shaping the way we perceive sustainability. With its innovative technologies that can produce clean energy, fresh drinking water, environmentally friendly air conditioning, and the conditions for sustainable and responsible aquaculture, OTE Corp is creating sustainable solutions to meet future global energy demands.

Imagine being able to address fundamental needs – fresh drinking water, clean energy, and sustainable food – without the use of fossil fuels. Imagine doing this without polluting the atmosphere with hundreds of tons of carbon dioxide emissions, and without further taxing our dwindling wild fish stocks. The technology called Ocean Thermal Energy Conversion (OTEC) makes this possible.
OTEC plants tap into the world's most abundant resource –our oceans –and utilize the temperature differential between the ocean's cold deep waters and warm surface waters to produce clean energy on a constant basis.
By combining opportunities for power production with seawater desalination (removing salt and other minerals from sea water to produce drinking water), OTEC has a great advantage over desalination plants powered by fossil fuels. The environmental impact and energy consumption associated with desalination technologies are often intense. OTEC technologies replace these fossil fuels with clean energy produced by OTEC plants, significantly reducing the amount of pollution released each year.
OTE Corp has already begun to bring island communities closer to this reality. With its team of ocean scientists and engineers, OTE Corp continues to deliver a wealth of expertise to present and future global projects. This includes a Memorandum of Understanding (MoU) with Zanzibar Electricity Corporation to build, design, own, and operate multiple OTEC and desalination water systems in Zanzibar.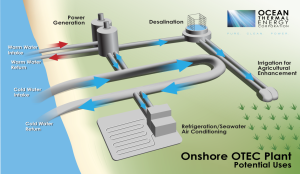 In March 2014, OTE Corp signed a MoU with United States Virgin Islands Senate President Shawn-Michael Malone for the company to conduct a study to evaluate the feasibility of installing OTEC plants in the United States Virgin Islands (USVI). Already, USVI's central government has expressed interest in developing the technology if results from the study prove positive.
Another major game-changing technology promoted by OTE is Seawater Air Conditioning (SWAC) – an environmentally friendly air conditioning technology that replaces energy-intensive cooling refrigerants with cold ocean deep water. Compared to conventional AC methods, some SWAC systems save an estimated 80-90% in air-conditioning electricity usage, while greatly curtailing carbon emissions.
OTE currently has an agreement to build, own, and operate a 9,800-ton SWAC plant for a world-class luxury resort in the Bahamas. Once complete, it will be the world's largest deep-ocean SWAC facility. This 9,800-ton SWAC system will keep an estimated 60,000 barrels of oil from being burned annually, while preventing the release of 40,000 tons of carbon dioxide emissions.
Many industries will benefit from OTE's technologies. Water authorities can utilize the water produced by OTEC plants to meet their core missions. Hotels and resorts can save billions of dollars in air conditioning costs. Fish farms can use OTEC's optimal environmental conditions to produce food. Governments, by increasing their renewable energy production, can become more energy independent.
By embracing strategic methods of utilizing the world's abundant resources, OTE Corporation is helping to reduce the risk of global conflict, encourage economic development, and mitigate the impacts of climate change.
As OTE commercializes SWAC and OTEC plants globally, hundreds of communities will be equipped with the self-empowerment tools they need to shape a sustainable and cleaner future. Reliable clean energy will help countries step away from volatile, expensive fossil fuels and move closer to long-term energy independence.