This article appeared in OTE's November 2016 newsletter. Go here to read the full newsletter.
By Jessica Santini and Tim Abbott, OTE's Executive Director, Military Division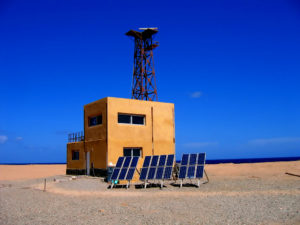 The U.S. Military has become a significant market for new energy technologies. Both domestically and abroad, the Department of Defense (DoD) seeks to improve energy efficiency and innovation, with a goal to meet at least 20% of their energy demands via renewables by 2020.
We sat down with Ocean Thermal Energy Corporation's Executive Director of the Military Division, Tim Abbott, to discuss the latest energy solutions. As a graduate from West Point boasting over 23 years of experience as an Infantry and Acquisitions Officer in the U.S. Army, Abbott is extra 'Hooah' and well-versed on the topic.
Abbott is also the President & CEO of Tiberius Energy, which specializes in providing energy solutions for the U.S. Military in challenging locations.
"If you think of desolate outposts," Abbott explains, "Those people are more energy challenged than anybody. As we continue to grow in Tiberius, we look for other technologies that we can insert into the government."
In remote areas like Iraq and Afghanistan, the need to operate off the grid is imperative. Abbott explains that while decreasing energy cost and reducing consumption is on the radar, the ultimate goal is to improve effectiveness to save more lives of American soldiers.
"Every time you deliver fuel or energy to battlefield locations, you put the soldiers at risk," Abbott says, adding, "If we can decrease those deliveries and be more self-sustaining, it's a much safer environment."
One of the most interesting and inspiring technologies that Abbott is working on is intelligent military batteries that perform individually for each soldier or can scale together to create one super energy force.
Like most clean energy enthusiasts, Abbott agrees that a combination of technologies working in tandem is best. Solar panels are already in play, but are only effective when the sun is strong and visible. On the other hand, a 24/7 technology like Ocean Thermal Energy Conversion (OTEC) is attractive to the military because it produces power both day and night and is unaffected by weather conditions. This is why the Navy has recently invested in its proven technology.
"If you look at those areas that support our strategic initiative across the world, there's definitely a play for OTEC there," Abbott says.
Renewables also have a preventative nature for national security. Inadequate electricity in developing nations often leaves their citizens struggling to produce enough fresh food and clean water, which can cause domestic and even global conflict.
"When I think of energy," Abbott tells us, "I think of the things in society that you need to exist: water filtration and running farming equipment, for example. Everything that you need to sustain life comes from some sort of energy to continue and grow society."
He believes that assisting these countries with energy development and clean water production is a global win, as nations like the U.S. can retain their most precious resource: their people.
"We had to send forces down to Haiti because there was instability, " Abbott explains. "We're taking our resources and our people and putting them in harm's way. Can we prevent that? If Haiti had the infrastructure, would we have been doing that? The answer is, probably not."
Abbott believes that corporations like Power Africa (a US Aid effort to add cleaner, more efficient electricity in Sub-Saharan Africa) and Ocean Thermal Energy Corporation (purveyors of clean energy and fresh water in developing countries) are global game-changers. He says that their work "has a direct impact on the security of the United States and the peace of the world."
"People can't control the country they're born into," Abbott says. "From a US standpoint, we should protect our nation, our resources, and our people. A safer world does that all around. That's important."
At the end of the day, Abbott boils it down to one simple concept: "The pursuit of happiness, because that's what America is about, right?"
Lt. Col. Tim Abbott, U.S. Army (Ret.)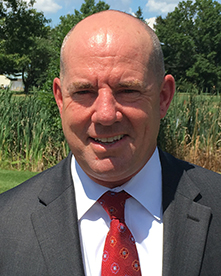 Tim Abbott, Lieutenant Colonel, U.S. Army (ret.)  graduated from the United States Military Academy at West Point in 1989 and then served in the US Army as an Infantry and Acquisition officer for over 23 years. After his military service, Tim led the EMC business development within the US intelligence agencies and is now President and CEO of Tiberius Energy, specializing in providing energy solutions in challenging locations. Tim was awarded the US Army Ranger Tab, Pathfinder Tab, Expert Infantrymen Badge, and Airborne and Air Assault Badges and is a Veteran of Operation Iraqi and Enduring Freedoms. He received his Masters in Business Administration from the University of North Carolina at Wilmington. He is most proud of his wife, Leslie, and their two children, Logan and Timothy.
---
This article appeared in OTE's November 2016 newsletter. Go here to read the full newsletter.