This article appeared in OTE's November 2016 newsletter. Go here to read the full newsletter.
By John Matthewson, Contributing Writer
Last month, OTE Corporation attended the 4th International Ocean Thermal Energy Conversion (OTEC) Symposium in The Netherlands, hosted by Delft University, Bluerise, and the OTEC Foundation. On October 25, Delft University of Technology (TUDelft) hosted the first day of the OTEC presentations, which were centered on the theme of OTEC projects and technology. During the second day, October 26, the OTEC Symposium was held at the Amsterdam RAI Conference Center as part of the Offshore Energy Exhibition's program.
A theme of the OTEC Symposium was addressing and accelerating international OTEC market development and OTEC commercialization. The OTEC Symposium also discussed technology research and new opportunities in OTEC technology development.
Fabien Cousteau, founder and president of the Ocean Learning Center and grandson of famed ocean explorer Jacques Cousteau, attended both days of the 4th International OTEC Symposium. Cousteau is an environmental conservationist, oceanographic explorer, and creator of oceanic documentaries. He stated, "OTEC is a clean energy source, a prime example on how to sustainably make use of our oceans without harming the marine environment. Now we're at a consciousness level and an urgency level that makes it of paramount importance. You know the island nations in general, whether it's the Maldives, The Bahamas, or Curaçao, are maybe twenty to thirty years ahead of nations that are landlocked. On many levels Curaçao and other island nations are at the forefront of possibilities, of need, and hopefully of desire to integrate these things for the future." Fabien Cousteau is a strong advocate of OTEC renewable energy technology.
Cousteau was the keynote speaker of the 4th International OTEC Symposium addressing OTEC technology and conservation of the environment.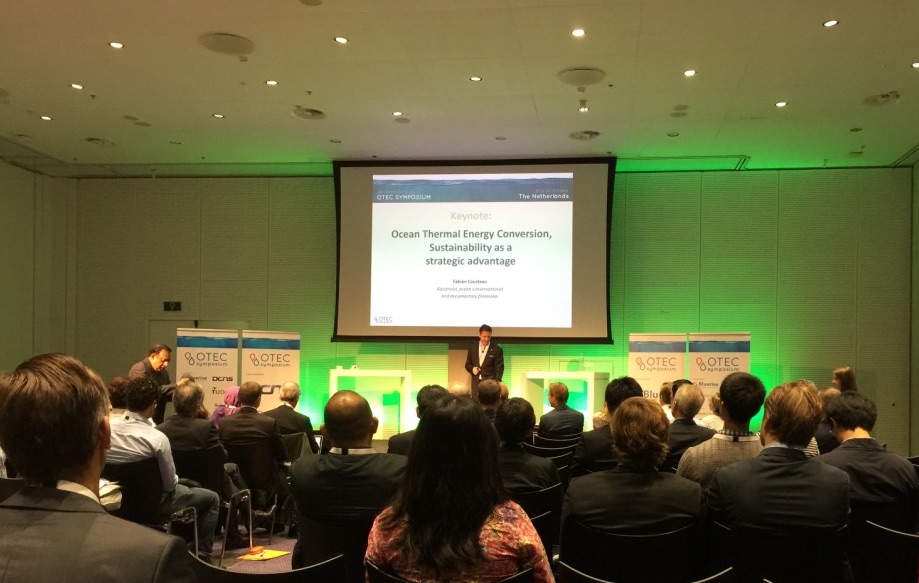 OTE Corporation's presentation, given by Dr. Ted Johnson, addressed commercialization, the OTEC business model, and markets for OTEC and seawater air conditioning (SWAC). OTE Corporation also discussed an integrated business model, combining OTEC, SWAC cooling, clean water generation, and other OTEC byproducts.
Speakers at TUDelft also addressed topics such as designing and implementing a capacity-building program, sustainable seawater generation, and utilization in Tarawa, Kiribati for multipurpose use of discharged water from an OTEC plant; NEMO OTEC plant bringing OTEC to utility scale; commercializing and financing OTEC; development of plate-type heat exchangers for OTEC; and the Martinique offshore trials.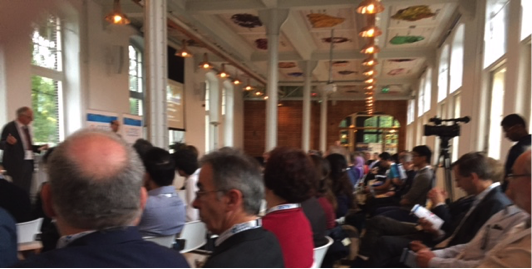 The second day of the OTEC Symposium, held at the RAI Conference Center, was hosted by the Offshore Energy Exhibition. OTEC topics included the Philippines OTEC case study, OTEC standardization and certification, introduction to the International Electrotechnical Commission (IEC) general guidance for design and analysis of an OTEC plant, certification of ocean thermal energy conversion systems, feedback from international case studies, and a panel session titled: A Potential Solution to Achieving 100% Renewable Energy on Islands.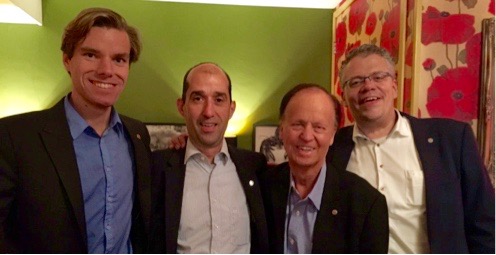 Also attending the OTEC Symposium was Petter Dessne, University of Borås and Founder of OTEC Africa and the OTEC Africa Conference, where Dr. Johnson gave the keynote address in 2013. Petter Dessne continues to advance OTEC in Africa for the benefit of millions of people who are in constant need of improved living conditions with basic human necessities, including clean energy and clean water, which would also facilitate agriculture.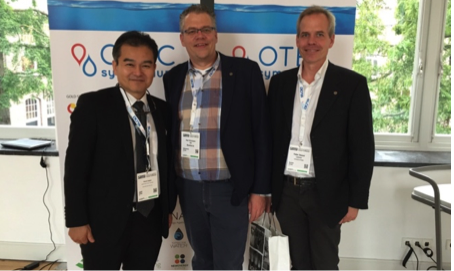 In order to meet the requirements of the COP21 world meeting in Paris, France, the world must remain under a 2 °C rise in global temperature. OTE Corporation works with universities and government organizations for OTEC technology and commercialization research to reduce the carbon footprint of Small Island Developing States (SIDS) in the Caribbean, the Pacific Ocean, and the Indian Ocean. OTE Corporation and others have the potential to assist many of the 190+ countries within tropical and subtropical regions that signed the COP21 agreement to reduce CO2 emissions with clean base-load energy production from the ocean.
At the 4th Annual OTEC Symposium, OTE Corporation and other participants and attendees discussed OTEC energy and the commercialization of the technology. Numerous important business discussions, introductions, and alliances were discussed that will advance and accelerate the adoption of OTEC worldwide in the future. OTE Corporation is looking forward with great interest to the 5th International OTEC Symposium.
John Matthewson
John Matthewson graduated from George Mason University. John resides in Virginia and is passionate about renewable energy, climate change and environmental conservation.
---
This article appeared in OTE's November 2016 newsletter. Go here to read the full newsletter.