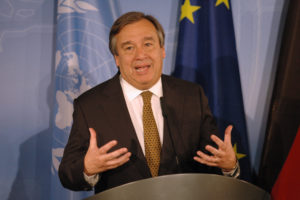 At the World Economic Forum in Davos, Switzerland, speaker and UN Secretary-General António Guterres called to mind the goals of the 2030 Agenda for Sustainable Development, urging cooperation in every part of society.
Specifically, Guterres discussed the "alignment of the core business of the private sector with the strategic goals of the international community."
Guterres noted that only the private sector can create the jobs needed to stabilize societies, thus creating the conditions needed to prevent conflicts. Also, he stated that the private sector alone can furnish the innovation and products required to promote sustainable and inclusive development.
The Sustainable Development Goals (SDGs), when realized, will bring about returns on investment of $30 billion per year. Cooperation between the private sector, government, and international organizations can help achieve these mutually beneficial goals, and allow the private sector "to play an absolutely essential role in making sure that those goals are effectively achieved."
Guterres summed it up by saying, "The best allies of all those that want to make sure that the Paris Agreement is implemented, the best allies today in the world are probably in the business sector and it is very important to fully mobilize them." We couldn't agree more.
Read more about the Secretary-General's remarks here.
---
This article appeared in OTE's February 2017 newsletter. Go here to sign up for our newsletter.