Who is Ocean Thermal Energy Corporation?
Ocean Thermal Energy Corporation (OTE) is a worldwide leader in designing, building, owning, and operating clean hydrothermal energy plants worldwide using the proven technologies Ocean Thermal Energy Conversion (OTEC) and Seawater Air Conditioning (SWAC).

Since 2010, OTE has attracted more than 600 investors who have enthusiastically supported the company's mission of delivering to developing nations base-load (24/7) renewable electricity, energy saving air conditioning systems, and water for drinking and sustainable food production.
OTE's proprietary designs for these game-changing technologies are now ripe for commercialization by tapping into the energy contained in the world's oceans, whose surface waters store 80% of the sun's heat every day. Using this massive energy source in conjunction with cold deep ocean water, Ocean Thermal Energy Conversion (OTEC) produces affordable 24/7 clean electricity and water for drinking, aquaculture, and agriculture.
OTE's technologies are established and proven, operating at various test and commercial operations in numerous locations. OTE's management team has established a noteworthy pipeline of projects with a signed energy services agreement (ESA), four signed memoranda of understanding (MoU), and proposals to the United States Department of Agriculture (USDA) and United States Department of Defense (USDoD). These projects are to design, build, own and operate OTEC, SWAC or a combination of both plants in The Bahamas, United States Virgin Islands, Cayman Islands, East Africa and for the USDA/US DoD. 
The Company's strategy for providing liquidity for its shareholders is to list on a US stock exchange and build a strong portfolio of profitable OTEC and SWAC projects, which should reflect an attractive share price.
OTE traces its roots back to 1988 and has a multidisciplinary team of experienced corporate executives, scientists and ocean engineers, together with strong strategic alliances with premier corporations and financing institutions.
Headquartered in Lancaster, Pennsylvania USA, OTE has offices in Pennsylvania, Virginia, Hawaii, The Bahamas, and Cayman Islands.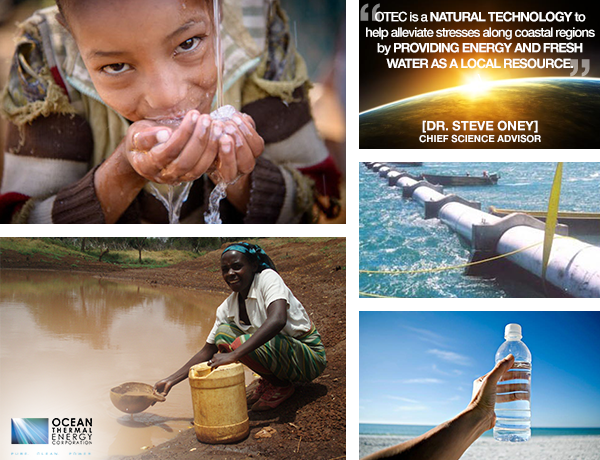 Common sense tells us that people cannot support a great technology until they first come to understand it. And, just as thirty years ago almost no one had heard the term, "Internet," three short years ago, most people had never heard of OTEC, or knew its amazing benefits and immediate readiness for commercialization. Now, the public's enthusiasm for OTEC is spreading rapidly, as reflected by OTE's 600+ individual investors who have supported the company both with their hard earned dollars, as well as with their time and energy to educate others about OTE and its global mission.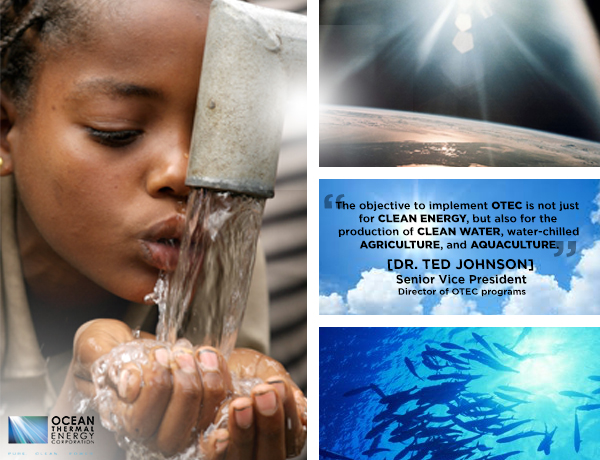 Together with the earliest investor, the Sustainable Humanitarian JPF Venture Fund 1, these 600+ individuals fully embrace the company's core values and Mission Statement:
Ocean Thermal Energy Corporation was founded upon one simple, yet powerful word: AND
We believe that by wise economic use of the proven technology, Ocean Thermal Energy Conversion (OTEC), we can and will bring clean energy and fresh drinking water to millions of people across the globe AND, in doing so, generate significant financial returns for our corporate shareholders.
We believe that the global clean energy and fresh water produced by Ocean Thermal Energy Corporation will help preserve our environment for future generations to come AND enhance international security for all free nations by: 

greatly reducing demand for fossil fuels in many regions of the world, consequently tempering global oil prices and associated profits that in some cases help fund hostile elements;
relieving drinking water shortages in some areas, which would otherwise be at significant risk of violence and conflict arising from competition for dwindling fresh water supplies;
providing enormous economic development opportunities in many developing nations with high rates of poverty and instability, both of which are significant risk factors for armed conflict and  the emergence of terrorism.
At Ocean Thermal Energy Corporation, we believe that energy, water, food, and security are the most basic needs for humanity. They always have been, and they always will be. Many people in the world lack these core necessities. The demand for, and economic opportunities associated with, these needs are rapidly expanding as the world's population exponentially grows and industrializes.  Ocean Thermal Energy Corporation is committed to helping people around the world achieve energy and life-sustaining independence.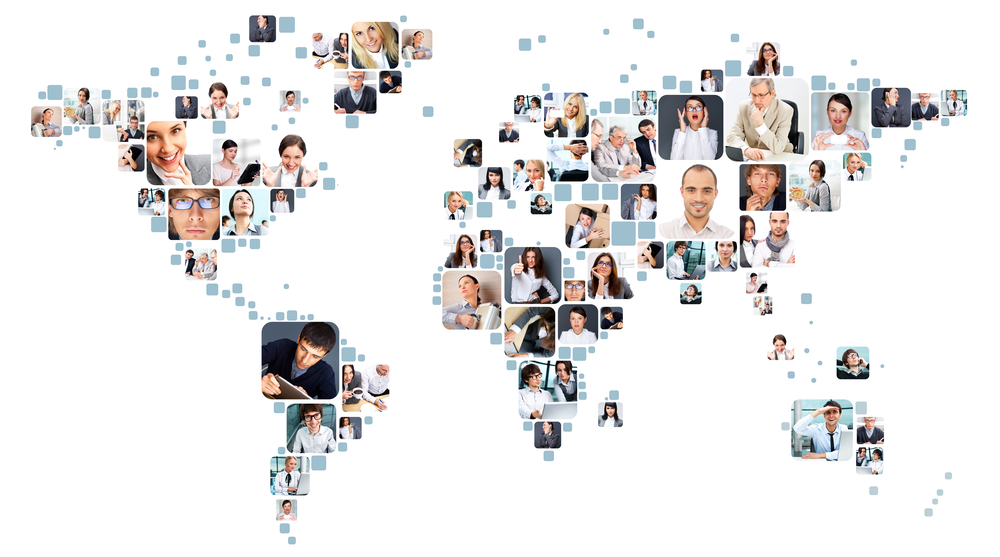 Our team of caring and business-savvy executive leaders, joined already by more than 600 like-minded investors, partners, and employees, has a clear and compelling vision to empower millions of global citizens by bringing these basic necessities to them, through traditional time-tested corporate methods, employed with a new spirit of ethical and compassionate business practices.

We enthusiastically invite you to join us as part of this inspiring vision and the reality it has already launched: a reality in which we will achieve financial success AND humanitarian benefits. In the words of James Allen,
For as a man dreams, so shall he become.  
Will you dare to join this dream? For more information on how you can help join the power of AND as a supporter of Ocean Thermal Energy Corporation, please sign up today.