IMPROVING THE LIVES OF MILLIONS ACROSS THE WORLD
"We owe it to our children, grandchildren, and future generations to help provide solutions that will improve the lives of millions of people worldwide. We are driven by our mission to bring renewable energy and clean water to people in developing nations around the world. Ocean Thermal Energy Corporation produces technology that is perfect for many achingly poor countries that will never prosper as long as they are tethered to imported, high-cost, fossil fuels and are desperately short of water. Our technology works in parts of the world where there is a great enough difference in temperature between surface and deep water – between the latitudes of the top and bottom of Africa. Think of the US Virgin Islands, Cayman Islands, and Hawaii – all places where OTE is already in various stages of developing and deploying these technologies, as well as Haiti, Colombia, Maldives, Tanzania, Philippines, and other countries.
We can provide real, practical solutions to mankind's three oldest and most fundamental needs:
plentiful food,
clean drinking water,
and sustainable energy solutions, without the use of fossil fuel."
-Jeremy P. Feakins
Chairman of the Board
Chief Executive Officer
THE PROBLEM

LACK OF FRESH WATER
Over 700 million global citizens lack access to safe drinking water
By 2025, about 1.8 billion people will be living with absolute water scarcity
By 2030, the worldwide demand for fresh water will exceed our supply by 40%
Each year, 1.6 million deaths are attributed to diseases spread through unsafe water, poor sanitation, and lack of hygiene
THE SOLUTION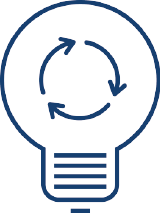 SELF-SUSTAINING ENERGY PRODUCTION
Technologies like Ocean Thermal Energy Conversion (OTEC) and Seawater Air Conditioning (SWAC) feed back into the local economy as they provide reliable renewable energy at a stable price point. They provide enormous economic development opportunities and job creation in developing nations with high rates of poverty and instability.
BUILDING SUSTAINABLE COMMUNITIES AROUND THE WORLD
Ocean Thermal Energy Corporation is executing these world-changing solutions in conjunction with the following pioneers:
WATER AND AGRICULTURE | DEWPOINT SYSTEMS
Dewpoint Systems finds other applications for the cold deep seawater brought up by NELHA's OTEC and SWAC pipes. Dewpoint has developed technology that can produce clean drinking water, and uses the temperature differential concept to grow crops (such as grapes) in areas where crops can't usually be grown. On an island with only seven days' worth of food available at any given time, the importance of food independence cannot be overstated.
FISH FARMING | BLUE OCEAN MARICULTURE
The nutrient-rich and virtually pathogen-free cold seawater from the deep ocean provides an optimal environment for various forms of aquaculture cultivation. Together with its sister company OceanSpar, Blue Ocean is at the forefront of developing technology for sustainable, open-ocean mariculture. Blue Ocean, which operates its hatchery at NELHA, specializes in raising several species of fish including, Yellowtail, Hiramasa, and Amberjack.
BIOFUEL | CELLANA LLC
The nutrient-rich cold seawater from the deep ocean also provides an optimal environment for growing some of the most productive plants on earth, marine microalgae. These algae can be used to produce biofuels. When burned, the biofuels release only the CO2 that was taken from the atmosphere during the algae's photosynthesis, and therefore, relatively environmentally benign in the event of a fuel spill.
BOTTLED WATER | KONA DEEP
Kona Deep uses the pristine, chilly seawater brought up by NELHA's deep water OTEC and SWAC pipes to produce superior quality bottled water, and will expand into producing sea salt, nutraceuticals, cosmetics, and more.
RESEARCH | MAKAI OCEAN ENGINEERING
A longtime pioneer in the field of renewable energy, and our Technical Partner on several projects around the world, Makai's Ocean Engineering team provides expertise for OTEC and SWAC, ocean pipelines, planning software, and more. Makai's collaboration with OTE continues to move us forward in developing clean energy solutions for our world.