OUR TECHNOLOGIES
We are an impact project developer of Ocean Thermal Energy Conversion (OTEC) and Seawater Air Conditioning (SWAC) plants- a unique package that produces clean energy, fresh water, and sustainability. OTEC and SWAC bring solutions to basic human necessities through the earth's most abundant resource: the ocean. Our reliable and revolutionary technologies work to preserve our environment for future generations to come and enhance international security for all free nations.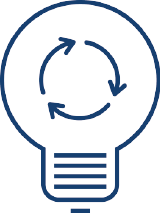 OTEC
Ocean Thermal Energy Conversion
produces clean, renewable energy
without burning fossil fuels.
SWAC
Seawater Air Conditioning operates
without the use of chemical agents.
It can reduce electricity usage by up to 90%.
OUR MARKETS
OTEC technology is ideally suited for tropical and subtropical regions of the world where three billion people live. Our plants require a sufficient temperature differential and a favorable seafloor environment. The National Renewable Energy Laboratory estimates that 68 countries and 29 territories are suitable for OTEC while OTE Corporation estimates the market size for these regions will generate revenues of over $2 trillion over the next 25 years.